Even a journey of 1000 miles, starts with a step. So as I have promised on a previous post – and I am a man of my word – this is the post about the best of the best – the 5 most influential books about wealth you will ever read.
These books will provide you with a lot of data, they will even help you on a more technical (how to) level, but most importantly they will re-wash your half-asleep brain, which still thinks you cannot get rich.
As it makes sense I will begin from number five up to number one, but essentially, all of these books are extremely well written and an absolute must read, no matter in which order you wanna proceed. Let's look at them one by one:
This is actually the first book I read, when I began my wealth journey some time ago. Robert Kiyosaki, is narrating a super engaging story throughout his book. Although, it can't be described as technical manual, nonetheless this book will give you the first small slap in the face. A slap you really need to awake you from the deep sleep you are having by taking the blue pill.
It can be literally be read in a couple of days and it will just make you want you to read more. It is very simple to understand (most of it is a very well put story that will surely motivate you to go for the next one.
Taken from the contents:
Chapter One – Lesson 1: The Rich Don't Work for Money
Chapter Two – Lesson 2: Why Teach Financial Literacy?
Chapter Three – Lesson 3: Mind Your – Own Business
Chapter Four – Lesson 4: The History of Taxes and the Power of Corporations
Chapter Five – Lesson 5: The Rich Invent Money
Chapter Six – Lesson 6: Work to Learn – Don't Work for Money
Chapter Seven – Overcoming Obstacles
Chapter Eight – Getting Started
Chapter Nine – Still Want More? Here Are Some To Do's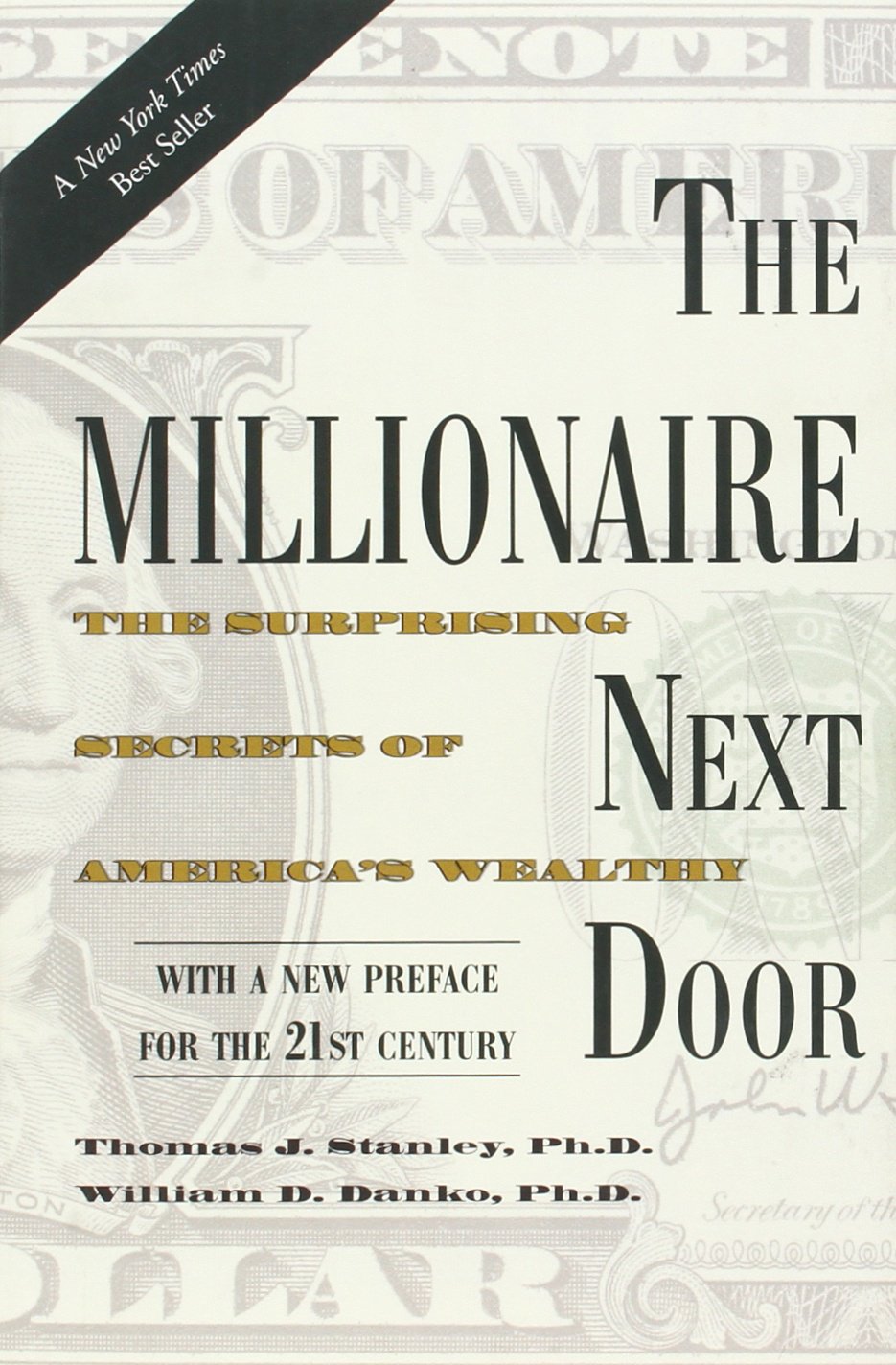 Another must read by all means. If you really wanna know how rich people live, what is the average cost of their car, their suit or their house, then this is the book for you. This statistics heaven, has all data you will ever going to need – and then some more – in order to be able to have a well founded opinion when it comes about how rich people live.
I bet it will help you lose, many of the fixed ideas, that all millionaires drive Ferraris, wear Armani suits and have gotten all their money from their parents heritage. If you really wanna know what the average salary is in USA, or the average taxes Millionaires pay, don't skip this one.
Taken from the contents:
Chapter One – Meet the Millionaire Next Door
Chapter Two – Frugal Frugal Frugal
Chapter Three – Time, Energy and Money
Chapter Four – You Aren't What You Drive
Chapter Five – Economic Outpatient Care
Chapter Six – Affirmative Action, Family Style
Chapter Seven – Find Your Niche
Chapter Eight – Millionaires versus Heirs
Chapter Nine – Still Want More? Here Are Some To Do's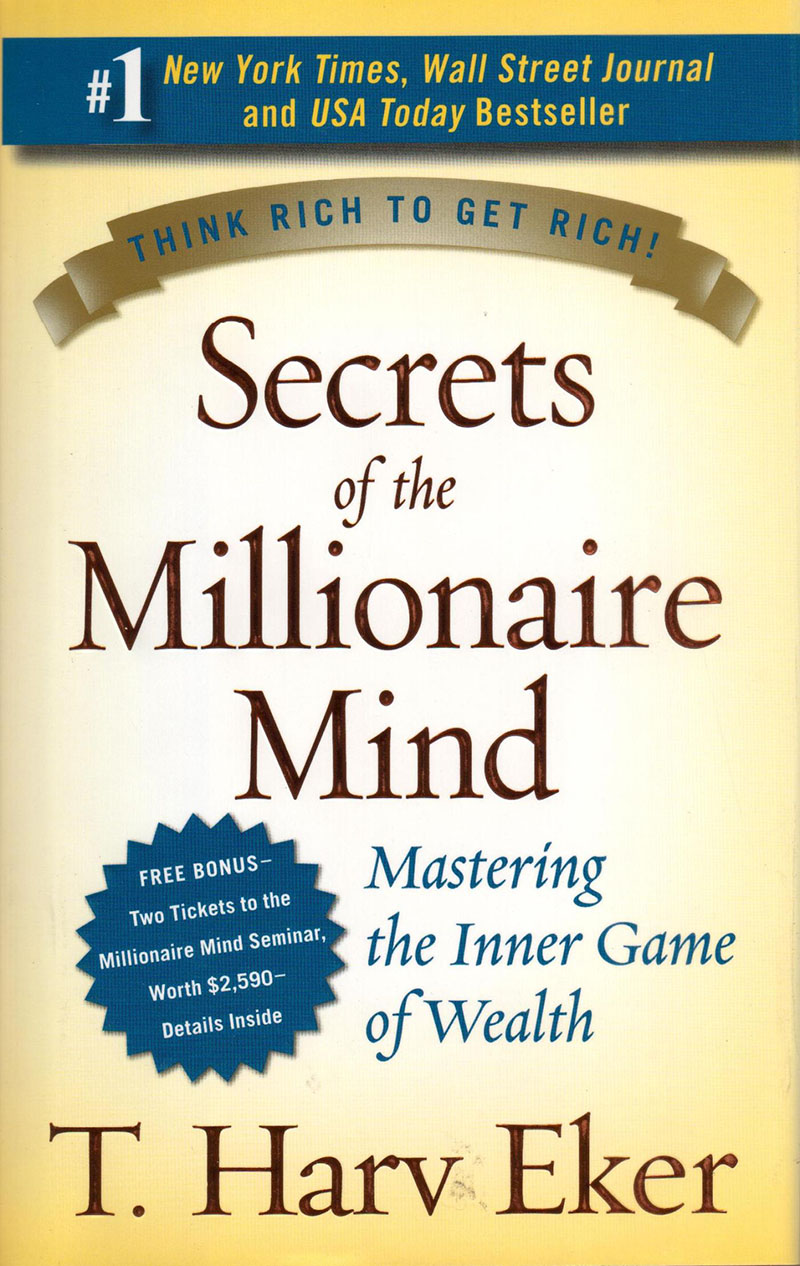 This is what I call a mindset blowing dynamite. This book will help you awake the suppressed poor guy that sleeps inside you. The author is doing a great job at pushing you towards the right direction when it comes to wealth building. The main moto of the book is, that wealth begins from our mind, and unless you really believe you can do it, it simply won't happen.
The real highlight of the book is the moment you will have to stand up and scream: "I HAVE A MILLIONAIRE MIND" Wooh I kinda turned on a bit! Title says it all: "Think Rich to Get Rich" – enough said!
Taken from the contents:
Who the Heck Is T. Harv Eker, and Why Should I Read This Book?
Part One – Your Money Blueprint
Part Two – The Wealth Files: Seventeen Ways Rich People Think and Act Differently from Poor and Middle-Class People
So What the Heck Do I Do Now?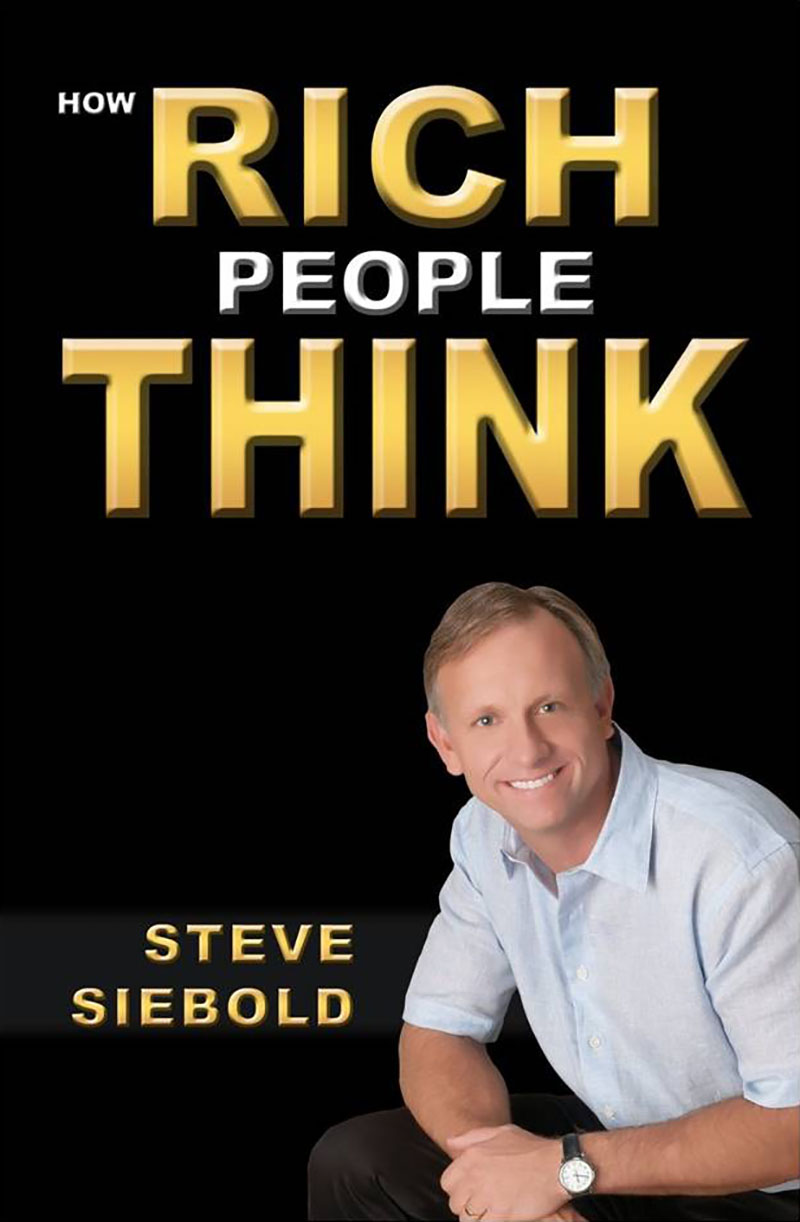 Or otherwise the 100 rules of wealth, period. In this book Siebold, will explain through 100 short chapters what are the major differences between average people (middle or poor class) thinking and successful people (world class) thinking.
This is by far the most compact mindset book you will find. All paradigms are given in a super easy, yet engaging way to understand and have an impact on you.
Taken from the contents:
Chapter 1 – Middle Class Focuses On Saving… World Class Focuses On Earning
Chapter 2 – Middle Class Thins About Money In Linear Terms… World Class Thinks About Money In Non-liner Terms
Chapter 3 – Middle Class Believes Hard Work Creates Wealth… World Class Believes Leverage Creates Wealth
Chapter 4 – Middle Class Believes Money Is the Root of All Evil… World Class Believes Poverty Is the Root of All Evil
Chapter 5 – Middle Class Believes Being Rich Is a Privilege… World Class Believes Being Rich Is a Right
Chapter 6 – Middle Class Believes Money Is Complicated… World Class Believes Money Is Simple
Chapter 7 – Middle Class Rich People Are Crooks… World Class Believes Rich People Are Ambitious
Chapter 8 – Middle Class Believes Building Wealth Is a Solitary Effort… World Class Believes Building Wealth Is a Team Effort
Chapter 9 – Middle Class Worries About Money… World Class Dreams About Money
Chapter 10 – Middle Class Believes Money Is Negative… World Class Believes Money Is Positive
and a whole lot more…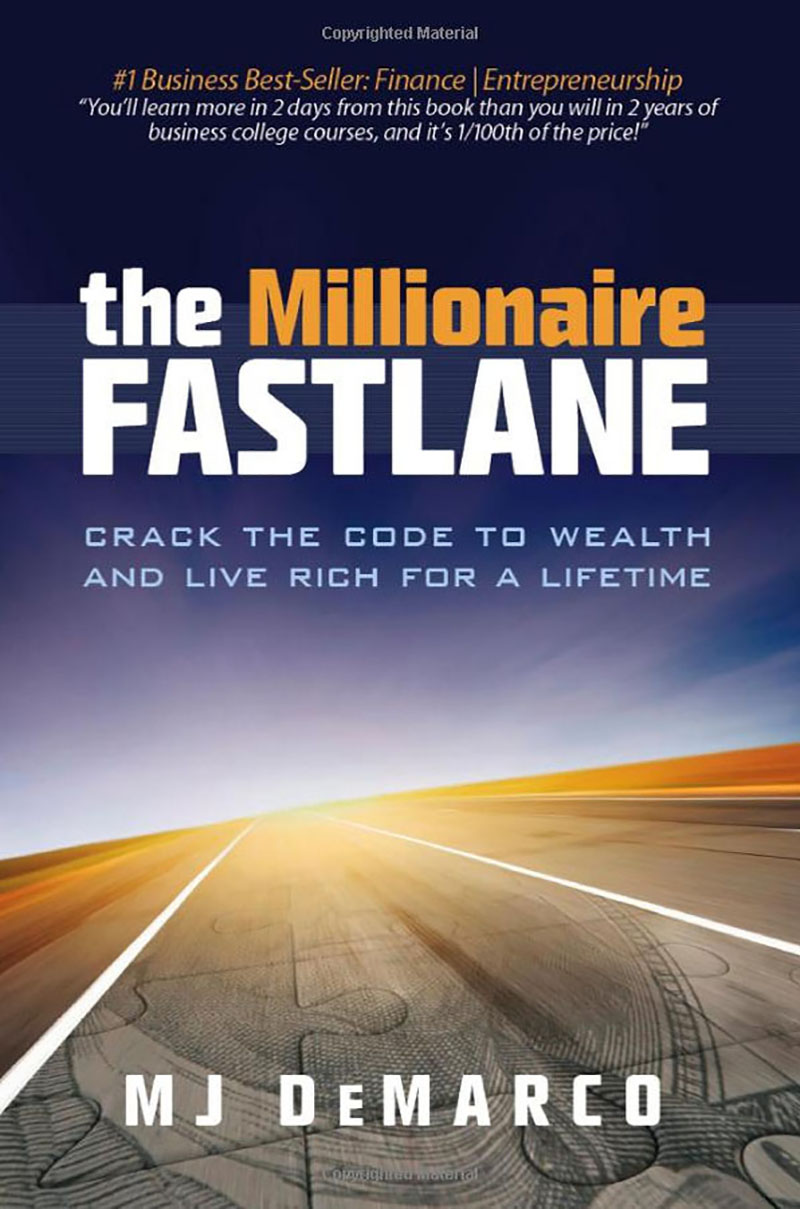 Like the comment on the cover, happens to say: "You' ll learn more in 2 days from this book than you will in 2 years of business college courses, and it's 1/100th of the price!".
I cannot possibly stretch this enough, but this book is hands down, the best book ever written on the subject of wealth/entrepreneurship, (and possibly overall). MJ DeMarco will move you like a hurricane into the right direction of wealth. This book simply has it all:
Mindset altering
Emotion
Technical data
Complete how to's
There is no way you will say there is something missing from this book. Only negative aspect about it, is that at some point… it has to end.
Taken from the contents:
Part 1: Wealth In a Wheelchair… "Get Rich Slow Is Get Rich Old"

Chapter 1 – The Great Deception
Chapter 2 – How I screwed "Get Rich Slow"

Part 2: Wealth In Not a Road, But a Road Trip

Chapter 3 – The Road Trip to Wealth
Chapter 4 – The Road Maps to Wealth

Part 3: Poorness – The Sidewalk

Chapter 5 – The Sidewalk Roadmap
Chapter 6 – Has Your Wealth Been Toxified
Chapter 7 – Misuse Money and Money Will Misuse You
Chapter 8 – Lucky Bastards Play the Game
Chapter 9 – Wealth Demands Accountability

Part 4 – Mediocrity – The Slowlane Roadmap

Chapter 10 – The Lie You've Been Sold: The Slowlane
Chapter 11 – The Criminal Trade: Your Job
Chapter 12 – The Slowlane – Why You Aren't Rich
Chapter 13 – The Futile Fight – Education
Chapter 14 – The Hypocrisy of the Groups
Chapter 15 – Slowlane Victory… A Gamble of Hope

Part 5 – Wealth – The Fastlane Roadmap

Chapter 16 – Wealth's Shortcut: The Fastlane
Chapter 17 – Switch Terms and Playbooks
Chapter 18 – How the Rich Really Get Rich
Chapter 19 – Divorce Wealth From Time
Chapter 20 – Recruit Your Army of Freedom Fighters
Chapter 21 – The Real Law of Wealth

Part 6 – Your Vehicle to Wealth – YOU

Chapter 22 –  Own Yourself First
Chapter 23 – Life's Steering Wheel
Chapter 24 – Wipe Your Windshield Clean
Chapter 25 – Deodorize Flatulent Headwinds
Chapter 26 – Your Primordial Fuel: Time
Chapter 27 – Change that Dirty, Stale Oil
Chapter 28 – Hit the Readline

Part 7 – The Roads to Wealth

Chapter 29 – The Right Road Routes to Wealth
Chapter 30 – The Commandment of Need
Chapter 31 – The Commandment of Entry
Chapter 32 – The Commandment of Control
Chapter 33 – The Commandment of Scale
Chapter 34 – The Commandment of Time
Chapter 35 – Rapid Wealth: The Interstates
Chapter 36 – Find Your Open Road
Chapter 37 – Give Your Road a Destination

Part 8 – Your Speed – Accelerate Wealth

Chapter 38 – The Speed of Success
Chapter 39 – Burn the Business Plan, Ignite Execution
Chapter 40 – Pedestrians Will Make You Rich
Chapter 41 – Throw Hijackers to the Curb
Chapter 42 – Be Someone's Savior
Chapter 43 – Build Brands, Not Businesses
Chapter 44 – Choose Monogamy Over Polygamy
Chapter 45 – Put it Together: Supercharge Your Wealth Plan!
That was it all folks. The 5 greatest books I have read about wealth. I can guarantee you that if you start with those, you won't stop there. Remember the journey of the 1000 miles? Let's take the first step here…together!
I would really appreciate if you took the time to mention any other books you might have read and you liked it.