I bet you are all caught by Christmas at this point. Aren't you?
So today, instead of another super useful but long article I decided to simply write a delicious article.
As I explained here, health is a very important aspect of our lives (possibly the most important one), so we should not take it lightly.
But after all, we are humans and from time to time we want to reward our selves with a  nice little and healthy treat 🙂
The special thing about this recipe is that it is low on carb (as low as possible to be honest), we need some carb in there in order for the ingredients to mix up nicely and add some flavor.
This recipe is my favorite snack when I want to eat something sweet and healthy. Of course even the healthiest food can harm you if you over do it. Eat and enjoy with moderation.

So instead of another rapport-breaking post, here is my delicious protein brownies low carb recipe I put together for you. I promise you are going to love me after trying it!
---
 Ingredients
Fluids
2

 whole eggs

250

 gr baby food with fruits

3/4

 glass of water
Powders
100

 gr oat flower

100

 gr chocolate protein powder

20

 gr cacao powder

1/2

 tsp salt

1/2

 tsp baking powder

2

 gr stevia
3 tsp organic coffee
 Instructions
We put all liquids together in a bowl and mix them

We turn oats into powder with a blender

We mix everything together

We bake in the oven with both resistances and air for about 15 minutes
 Notes
Make sure you won't overcook the brownies, we want them to be moist on the inside like brownies. If you bake them more than the ideal time, they will come out like bread. Unfortunately you will have to experiment a bit on this depending on your oven.
You could reduce carb even more by removing the baby fruit or the oats, but I wanted to keep a nice balance between nutrition, taste and texture.
 Nutritional Data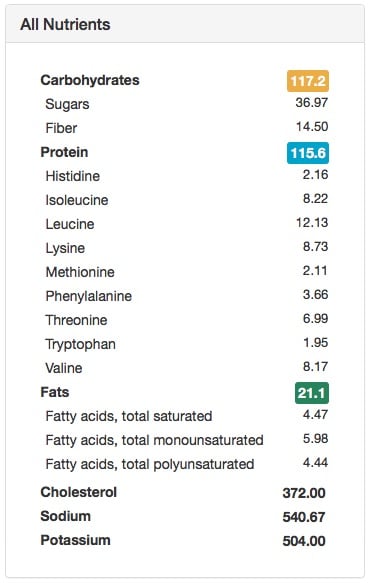 In case you want to calculate the nutrients of your foods like I did, here is the tool I used to do it.
I'd really like to hear your comments on this one. Any ideas to improve the recipe?