Since a lot of you, keep asking me what's the whole process of hiring a new ghostwriter for your books, I decided to put up an article, explaining this exact procedure.
No matter if you're looking for a fiction or non-fiction writer, same principles apply on both cases.
So let's begin with something fundamental. Why outsourcing and not writing my own books.
Writing vs outsourcing
Writing your own books vs outsourcing them has some peculiarities.
To write a book is not easy. It requires a lot of time and effort, and most of the times it's not worth it and it's not very scalable. Besides that, you will really need to be an expert on the subject and/or a hell of a good and efficient researcher.
What I do instead, is I hire some people, who are called ghostwriters to write the eBooks for me. They are professionally qualified writers who are very good at researching on topics and then write on almost every topic you assign to them.
After I post my job about the book I want to write, I negotiate with the potential writers until I find a good one. I then assign the job to him/her and wait to collect my book.
This is my method of preference as long as the book content is concerned. Unless you consider yourself to be a very good writer, I would go with the outsourcing method. More scalability, more free time, more money.
Remember what I want you to be is a hell of a successful publisher, manager, and marketer. Making you a good writer is beyond the scope of this article.
General guidelines to follow
Remember these guidelines, will vary a bit, depending on the niche and the book, but most of them will apply to most occasions.
Go after your model book
By now, you should have chosen, the model book, you are going to improve upon. By now you should be able to know what your market wants in terms of quantity and the specifics. What you are going to ask from your ghostwriter is something similar to what you have already seen on other best-seller books, only improved in any way you can.
Note down all the key points of your model books. What parts you liked, what parts you didn't like, and most importantly what the readers of the other books didn't like (through the comment system).
All this information is very valuable, and you are gonna need it when you will explain to your freelancer what this book is about.
Make it between 8000-10000 words
As a newbie in this process, an initial length of 8000-10000 words will suffice. There is no reason to order longer books since you still won't have the experience to judge beforehand, whether this book will be a hit or not.
Especially in non-fiction, things are a bit blurry in the beginning. Until you become very good at it, and you have a pretty good overview of the whole thing, I would say not to risk with your book length.
A script of approximately 10000 words will produce a nice 50-60 pages long book, that will be more than enough to show you, if the niche you have chosen is profitable or not.
How to hire a ghostwriter
Time to hire your first ghostwriter. How do I start? Before you step into this, I would propose to get a cup of coffee. Many steps to follow ahead.
OK, now, that you have your coffee…let's go!
Step 1: Decide on the ideal platform to use
Fortunately, today there is a great variety of such platforms to choose from. Given not all are equally good or helpful. Again, mainly depending on your specific job and budget you will narrow down to a few hiring platforms for your new ghost-writer. Some of the options you have at this point are:
The first time you will need to hire a freelancer, there will be a bit of overhead finding the ideal platform for your job. But after you go through this process a few times, it will become easier and easier to find the right platform for your task.
It might be worth at this point to spend a few minutes navigating around on every platform to make yourself comfortable with the main services and procedures each one has to offer.
I promise this won't take long, but it will give you a very helpful overview of job listings, freelancing tips, payment methods etc.
Right, so after you have done your quick market research, let's say you have decided to use Upwork as your platform.
What comes next?
Step 2: Make a research for similar job listings
The main point after you find the platform you are going to use, is to make a nice job posting that will attract many applicants to it. The larger the number of applications, the better your chances to hire a quality freelancer for your job.
Unfortunately, at this point, you are not that experienced in writing enticing job postings (how could you after all, it's your first time). So what you need to do is look at other similar job posting with yours.
This is how you will look for other postings similar to yours.
First of all, go up next to the logo where it says Find Freelancers, click on that and it will change the option to Find Jobs.

Now you are set to look for jobs, similar to yours. Type in the field "fiction eBook writer".
Usually many results will return. Look at the ones that look more appealing and relevant to your job.
Another good idea might be to sort jobs according to Client Rating, usually clients with better rating write better job postings.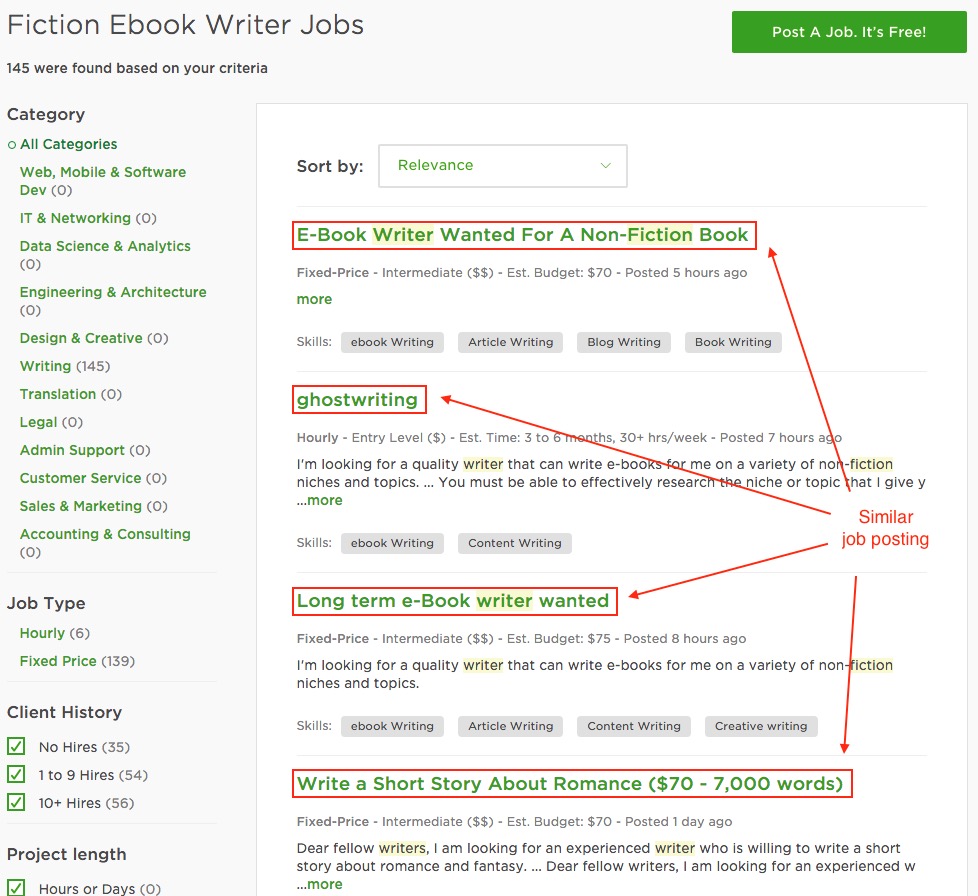 Make notes from the job postings you liked the most. Try to see patterns on what these postings have in common, like clear objectives, emotion etc. and move ahead onto the next step.
Write your actual job posting.
Step 3: Put together your job posting
After you skim through the first results, pick up some job postings that you like and try to combine the best parts of each one to write a high profile posting for your business.
Click where it says Post a Job

What you need to remember here is that practically what you do is a "sales pitch". With your posting, you need to convince freelancers that you are an ideal boss for them.
Here are the criteria your future writer should have. If you want to ensure the quality of your book, no exceptions can be made here.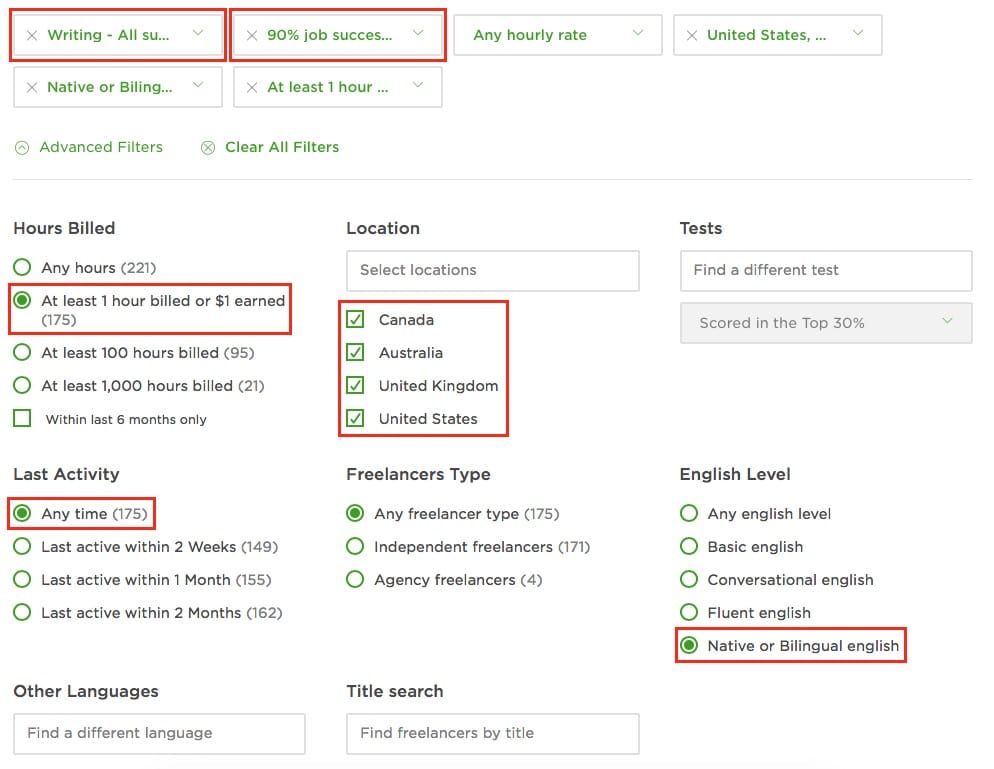 Your posting should always be based on the following principles.
An intriguing title
Who likes to read boring titles that look like dull copycats of just another average job posting. This is your first and probably only chance to stand out. Learning how to write good headlines, is an art of its own, but until you master this art, try to do your best here.
A very comprehensive description
People are lazy. And because of that, most of the times won't make the extra effort to ask for further clarifications, unless they are super interested in a specific job. This is where you need to be as analytical as possible in order to:
Save yourself and the writer some time, by avoiding going back and forth with the various questions that might arise on what his/her exact tasks will be.
Demonstrate a professional profile by being sure of what you ask for (employees in general always like that - a lot).
It will be easier for the freelancer to judge if he is a good applicant for your job beforehand, so he won't waste your time with useless questions.
You need to be precise on what you need people to do for you, remember about the lazy people we talked about a bit earlier?
Ask them why
Inside your description, always make sure to ask why the potential ghostwriter should take this job, what they like the best about your job proposal and how he will try to accomplish it. While the answer its self might not be that important, this will give you a better image of the level of professionalism of each applicant.
If someone takes the time to answer these screening questions in depth, it is a positive indicator that he is really interested in this job and possibly he will make the extra effort to accomplish the task.
Be precise about the qualifications you ask for
This will greatly vary depending on the freelancer you look for, but you might want to ask for:
xx many years of experience
be a native English speaker
have xx completed works in the same niche
State all the benefits of your job
Inside your description, make sure to describe why YOUR job posting is better than all the others. Always have in mind that freelancers are not the only ones competing with each other. You also compete with other people coming to find a good ghostwiter.
The freelancer will need to know what are the benefits he gets by choosing your job.
Let them know your proposed budget and/or deadline
Whether this is a one-time task or a continuous cooperation, make sure to let your future employee know what you are willing to pay in advance. This will make it a lot easier for both of you to establish a better ground of communication.
You simply don't need them to ask you, what the proposed budget is and waste your time every single time.
Be specific. Be Fair. And if you find quality. Be generous.
Moreover, if you have a specific deadline in mind, let the applicant know beforehand. This will give the applicant the opportunity to tell if the time frame will do or not. It might work for you, but not for him.
After you post your job, all you have to do is sit back and wait. In a couple of hours/days, some applications will arrive in your inbox.
You will find the full scripts I use in order to make my job postings as enticing and professional as possible on my website. You can download them, from the resources section, after you enroll for my program.
Step 4: Discard the bad, shortlist the good
Good. Some days have now passed and you start collecting your first applications.
Supposedly you did everything right up to now, you will have a great amount of future candidates to choose from. Some platforms might recommend some applicants stating their stats.
Depending on the platform you have chosen, this step might take some time to complete, but it is very crucial. So be patient and do everything right.
Check each application, thoroughly and read every detail. Again we don't want to waste our time or theirs. Time is of the essence. See how each applicant answered to your questions and what he has to offer.
Evaluate if he spent any time trying to convince you that, he is the perfect candidate for you, or he just threw some canned answers/descriptions to your requests.
A lot can be derived from his application. The level of competence, language, willingness to work and cooperate etc.
After you have the first round, it's time to completely discard applications that are not what you look for, and put the rest of them in a short-list. Whether this is done with each platform's built-in system or on a spreadsheet of yours, it's ok.
Next step will have to do with the actual interview each candidate will have to pass through.
Step 5: A thorough interview is all you need
Although this part seems "heavy" and time consuming, it is a vital step that you cannot discount. It's your money and time you are investing after all, remember?
Now that you have your short-list, it's time to get into the specifics. Reach out to your applicants and try to learn as much as possible, asking specific questions like:
if he/she has done similar projects before what was the experience like
whether they have more questions or clarifications, you can help them with
always ask for samples of previous work (this is major)
It is way better to spend more time at this stage, trying to iron out any miscommunication issues, rather than later (after spending your time and money on a writer that doesn't fit).
Try to be as proactive as possible, a mistake at this point costs way less. Always keep that in mind.
In order to make this whole process easier, I have put together the detailed complete script I use, in order to inform the candidates which are the exact specs I ask for my fiction and non-fiction books. You can find both scripts on the resources section.
If this is about a project that you can use more than one ghostwriters, then it would be wise to choose all of the applicants that will pass your interview and ask them for a pilot project.
Step 6: Always ask for a "pilot" manuscript
Again, the earlier you do a mistake the better it is.
If you are anything like me, I guess you ask for quality on whatever you do. The final test you can put up here is a test pilot job. In this case, let's assume, you will ask for a simple yet indicative sample of the book you are going to publish.
This will give you a lot of inside info about:
the skillset of your applicant
the level of quality of the deliverables
his ability on keeping deadlines
how persistent he is in making any changes/revisions
his competence in communication
his overall availability
Don't pay unless you are 100% satisfied with the deliverables. Asking for some revisions is not unfair or unethical. It's their job to perform according to your needs and you should not feel bad about it.
After you have all the final versions of your pilots, come up with a scoring system for each category, like giving a review, and rank all applicants according to this.
The rest is simple. The best one (ones) gets the job.
Step 7: Welcome aboard
Apart from that, there is not much more you can do in order to choose the best ghostwriter for your business.
If the test pilot goes well, you pretty much have a good understanding of the overall value of this specific freelancer.
After the pilot assignment, you can start assigning regular tasks, while you keep monitoring the quality metrics I mentioned before regularly. Even if the pilot goes well, that doesn't mean this guy is 100% the right person.
All you have to do now is stay calm and try to keep a balanced and well-oiled cooperation with your new writer.
There are methods to train them and streamline the whole process of such a cooperation, but this will be the topic of another article.
Give it a shot
Hiring a skillful ghostwriter is not rocket science. For some of you, it might look like a big deal but it really is not. If you are careful during the whole procedure, you will be able to find some excellent help, without any difficulty.
More importantly, you will train yourself in a new very powerful skill - hiring an employee online - that will for sure help you expand and scale your business easier.
Just pay attention to the details. Be very specific about what you are asking for and try to think of any feature you might need in advance. Errors cost a lot less in the beginning of every process rather than in the end.
After you have hired your first or second ghostwriter, you will feel a lot more confident with the whole process. You will minimize mistakes and save a lot of money.
I would really like it, if you could take a moment and let me know how this whole process works for you, in the comments below.
*As a final note, because you often ask me what is the exact methodology I use, the authors, the designers and the exact promotion techniques I utilize in Kindle Publishing, I decided to put together a thorough program, in which I explain in every detail (videos, scripts, resources), the exact same method I use to get these results.
In case you are interested, this is the program I have put together. Thanks!